The BIG crane day is the single most exciting day of this project as a lot of visual progress is made in a few hours. In this post, we show you photos of the containers being placed on their foundations, and share  some of the considerations and options available for completing this step in the construction process.
In this project, all the shipping containers were on site for several months as a means for storing furniture, construction materials, and tools. The containers were siting on wooden blocks, awaiting to be moved to their final resting places.

Panorama shot of the final foundations after backfill and grading – click to enlarge
4 options for placing shipping containers
In order of price, but also lowest flexibility we have listed some options for placing containers below:
Tilt and load flatbed trucks: These are the trucks that typically deliver 20′ containers and are the lowest cost option. They have the flexibility of unloading a container without any assistance of forklifts or cranes. On the down side, they are limited to dropping the containers and need a 60′ straight run way from the container unloading position. In this project, the land around the OCTOPOD is tight with natural drop offs and water, and therefore this method will not work.
Off road forklift: Heavy duty forklifts capable of lifting containers and traversing soft and uneven gravel terrain. Again, given the limited ability to traverse around the foundation area, this was not a practical option for this project. However, in other projects with wider lay down area, an off road forklift can be used as long as the forks are wide enough and long enough (8′) to fit into the container fork lift pockets. If using this method, the forklift is limited to lifting the containers from the 20′ long side only.
Small crane: Smaller cranes are lower to hire per hour in cost than large cranes but have limited reach capability and may take longer to complete the job if they need to move and reposition themselves for a second lift of the same container. When lifting containers or any other heavy objects, many cranes can lift them straight up but as you reach out, the laws of physics kick in and have the effect of requiring larger lift capacities to perform the work.
Large crane: Larger cranes cost the most to hire per hour but have the greatest reach and can complete the job in less time and with ease. In this project, we wanted to be able to reach almost 100′ away from the crane location for the furthest container placements.  After being set up, the seven containers were moved into place with safety and precision in a few hours.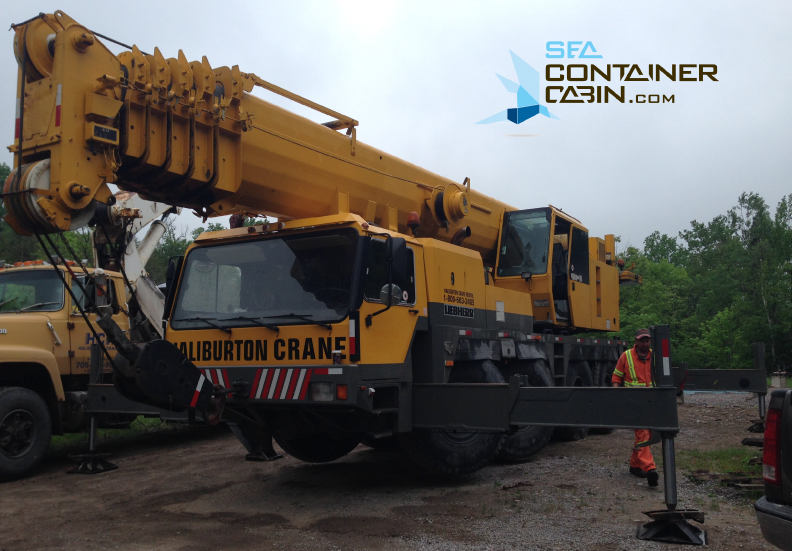 Large 90 ton Crane for BIG Crane Day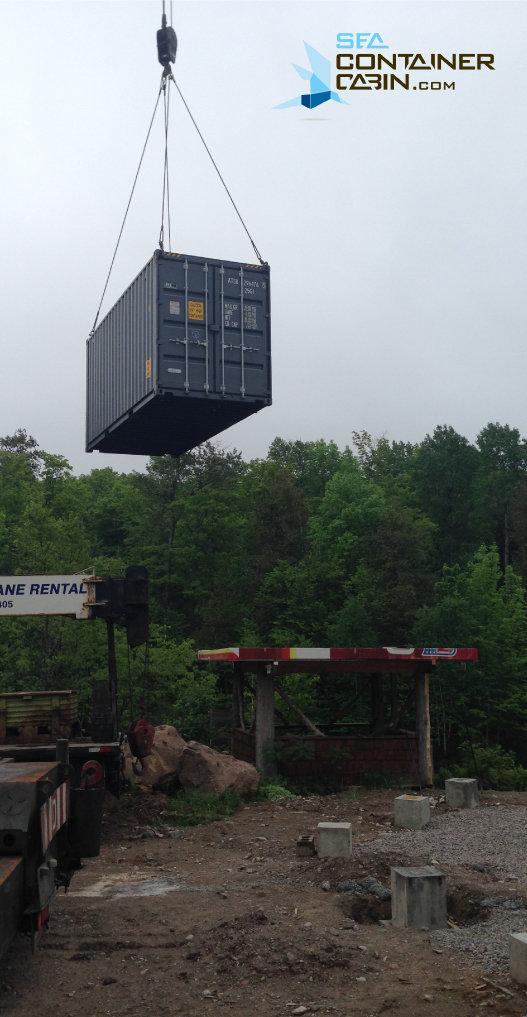 Shipping container being craned into position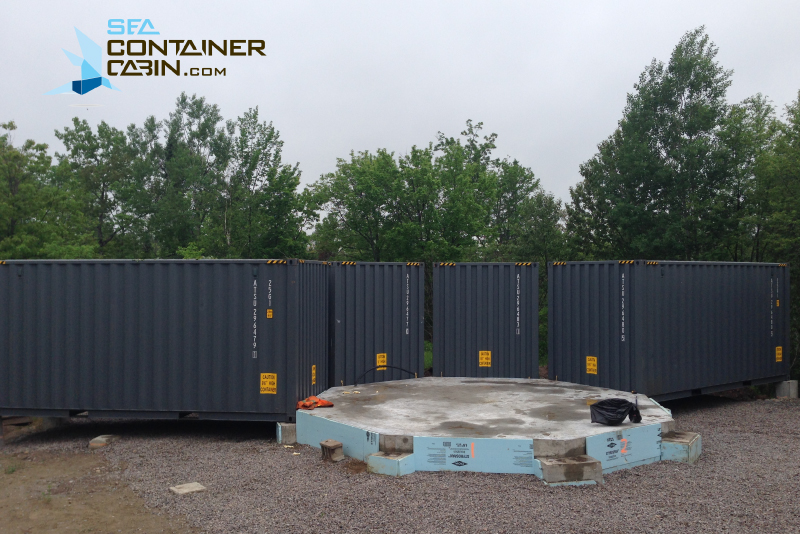 4 of 7 Shipping containers placed on foundations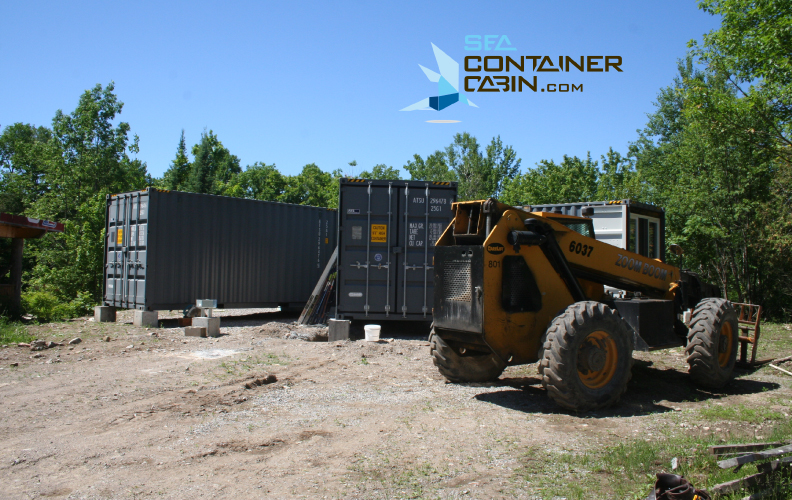 All 7 Shipping Containers Cabin sitting on foundations
Click Time Lapse VIDEO of the BIG Crane Day!
Optimize the benefits of building with shipping containers.
We have figured out the tricks to building homes out of shipping containers in cold environments while meeting Ontario building code. Contact us for your DIY shipping container kit so you can prepare yourself to build your very own permanent shipping container home.