The 'Octopod' is our shipping container cabin and it features a unique Hub and Spoke design. The 'Hub' is a large centre octagonal great room and each radiating container is a 'Spoke' that serves a different purpose.  The name was inspired by our 4 year old daughter who is equally excited about the project as we are.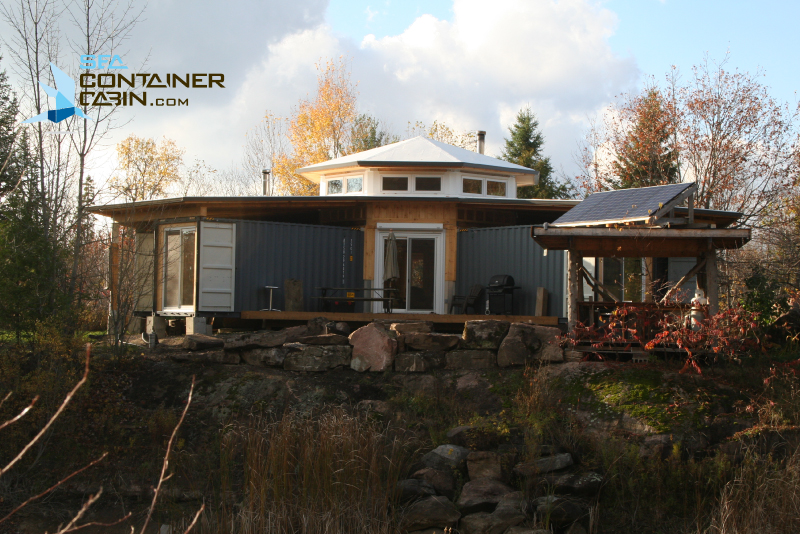 The Octopod is based on the following design philosophies:
work

with the containers, not against them

minimize

the amount of cutting and welding

maximize

the inherent strengths of containers, such as their structural strength, air tight envelope, material durability, and their high security features

maximize

natural light and ventilation with window and door glazing at extremities and clear story

centre

integrate

numerous off-grid features

bill

of construction materials to be sourced from local suppliers and

sawmills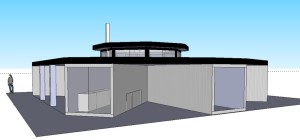 The Octopod is 1400 square feet in gross floor area and will sit on 22 concrete piers. The structural integrity of the containers will allow them to sit on piers and clear span their full length. Taking advantage of this strength will minimize the amount of foundation work otherwise necessary for standard construction methods. The stock steel security doors will remain on the outward facing end of the containers, to be opened up and fully swung back when occupied, and can be shut and locked for high security when away.
Post and Beam timber will form the centre octogon great room. The vaulted ceiling height will be 18′ at its peak, with very large pine beams spanning overhead to support the indoor elevated water tower above the living space (to be describe further in future off-grid postings). The interior will be completely finished in warm wood products.
Seven 20′ high cube containers will be dedicated to various uses. A wood fired wet sauna will be featured on the west wing. A 2 piece washroom will be accessible to the interior. One dining box. One kitchen box. Two bedroom boxes. One workshop box. One storage and foyer box. Instead of an 8th box we are going with a large deck that has direct access (with security shutter) to the great room.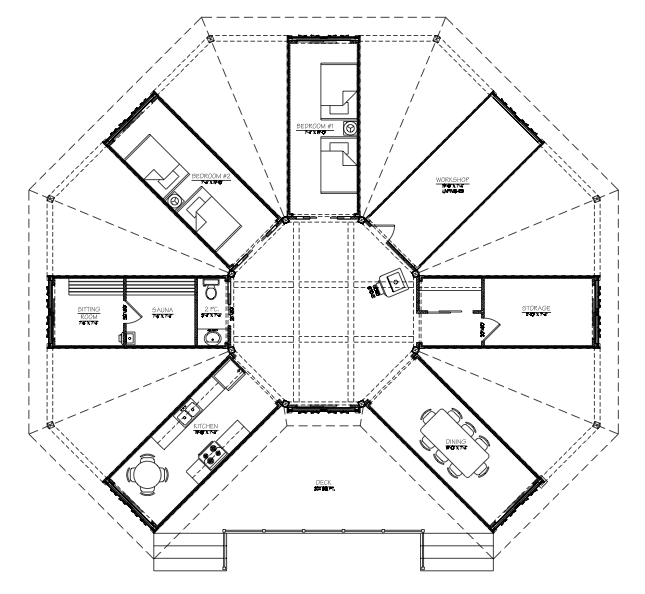 If you have any questions on our Project Octopod Shipping Container Cabin, please leave us a comment or contact us.